Digital Transformation for Instructor-led Training, Too?
Instructor-led training is often at the center of today's professional training programs, but there's one huge disadvantage — it's time-consuming. Digital transformation has an unexpected solution.
On average, companies only provided 55.4 hours of training to their learners in 2020. That breaks down to roughly 1 hour/week. Does it make sense to use 8 weeks of training time for a one-day training?
Research shows learners lose 79% of the knowledge they learned in only 30 days. It's called the forgetting curve. Luckily, you can combat it by training people in shorter bursts.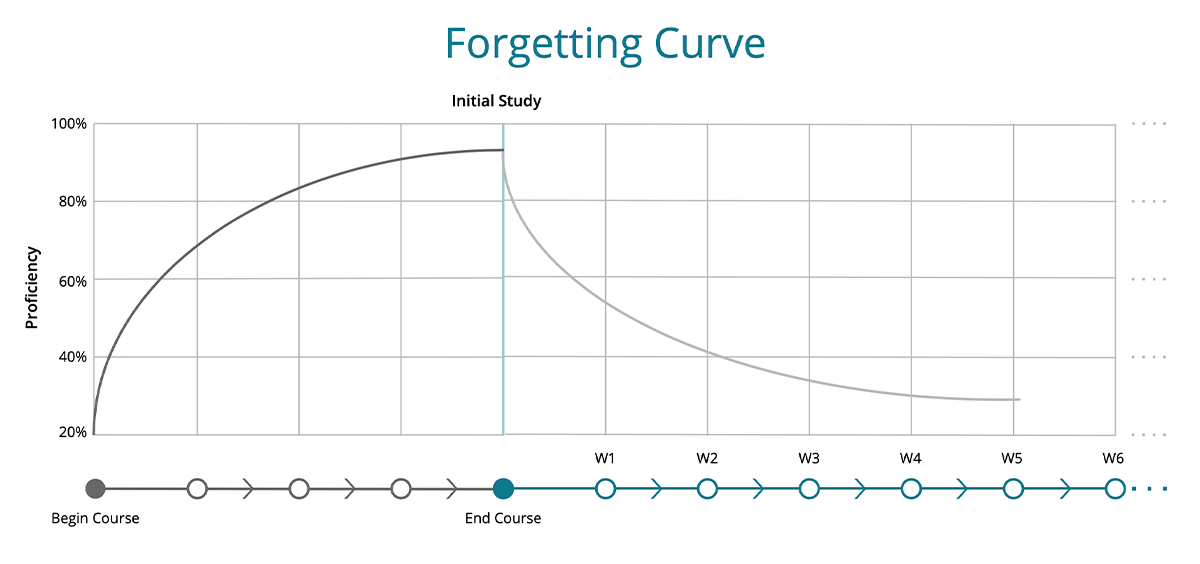 Instructor-led training has struggled to combat the forgetting curve. This can partly be explained by the cost. It's always meant instructor-led training needed to be delivered in half or full days.
Digital transformation allows you to think of instructor-led training in minutes, not days.
All of a sudden, you can send a coach in for a 15-minute feedback session. Or, targeting learners for "just-right" training becomes possible. And, communities of practice become a reality, not an aspiration. All you need is the right learning management system (LMS).
🔎 Want to know what digital transformation looks like with blended learning? Read our case study, How Richardson Has Transformed the Game for Sales Training.
The 1:1 Coaching Advantage
No one would ever expect an Olympic athlete to become a champion without a personal coach. Why do we expect the same from our learners?
Your learners deserve 1:1 coaching. The question becomes how to reduce the cost.
Virtual instructor-led training (vILT) offers you a solution. The key to reducing the ROI is to match one coach to several learners. For example, your coaches might hold office hours and teach group sessions. With Zoom directly integrated into your LMS, this coaching happens seamlessly in the learning platform.
Since they're working virtually, you can make your coach available just in time. These meetings might only be minutes long. Yet, the personalization makes them incredibly effective. Your learner won't be waiting for the next training session to implement their new knowledge. They'll be applying it, missing the mark, and asking for feedback.
Cost-effective Group Instruction
We often train teams, but the best teams often bring together disparate skills.
Virtual instruction gives you the opportunity to group your learners in new ways. You might group managers from across the country. Or, you can group everyone by role. With learning technology, you can even give pre-assessments to different groups by skill level. You're no longer limited by the constraints of geography or the high cost of travel.
Different groupings create different advantages:
Skill-based grouping allows you to target training by pre-assessing learners.
Nation-wide grouping provides learners opportunities to network and learn from each other.
Role-based grouping can often focus on performance-based outcomes.
When it comes to determining your grouping strategy, think about what matters most to your business. A major advantage of grouping your learners is that you are then able to pull data and insights from your learning platform related to that group, which will help you drive your business goals forward.
And no matter how you choose to group your learners, vILT is more cost-effective. You'll be saving travel time, hotel rooms, and meals. You'll also be reducing the amount of time it takes to train your learners, which means they'll achieve their (and your!) desired learning outcomes faster. Plus, your LMS might include a Zoom integration anyways. Why not improve the ROI of your LMS and vILT at the same time?
🔎 Find out more ways to improve the ROI of your LMS in our blog post, Lift your ROI by Leveraging New Learning Strategies.
Human-centered Communities of Practice
Often, communities of practice consist of a discussion board with the last post dated a year ago...not exactly the networking bastion you were hoping for.
Live virtual events hosted on your LMS can rejuvenate a community of practice. Suddenly, these people aren't just names on the screen. They're real faces with real problems. And you can help them.
Here are a few options for virtual events to run in your communities of practice:
Fireside chats based on a common problem.
Traditional live Q&As with a subject matter expert.
Accountability groups run by a moderator.
Implementation groups focused on action.
The rise in remote working makes virtual communities of practice even more important. People are missing the face-to-face interactions in their office communities. Virtual learning communities can help fill the gap.
Your LMS is Ready
Unlike other learning initiatives, you could start implementing vILT in minutes. You just open your zoom integrations on your LMS and start a meeting.
Training companies could even offer these add-ons with vILT:
1:1 coaching support to help learners implement new skills.
Targeted group coaching to make sure everyone achieves mastery.
Subscription-based communities of practice to provide accountability.
These are just a few ways virtual instructor-led training can make your learning program cost-effective. Your LMS is ready for vILT, are you?
Find out more ways to leverage your LMS in our ebook, The CLO's Handbook for Choosing Learning Technology to Grow Your Business.