5 Ways an LMS Can Drive Sales and Cut Costs for Your Online Test Prep Program
Generating revenue from your test prep training program requires more than course design and promotion. Find out how an LMS helps boost your online course sales.
We live in one of the most highly educated societies in history. But as society changes, naturally, so does the way we learn. Professionals
are on the go
now more than ever, and learners have shorter attention spans and more
responsibilities to juggle
.
Test prep training programs must adapt to meet today's learners where they are—in the digital space.
The US test prep training market is set to grow by

$10.72 billion

by 2024. However, not all test prep training courses are created equal. The best solutions are courses that combine convenience with quality content.
In high-stakes professional exam prep for a certification or license,
quality content
means lessons and practice experiences that boost learners' confidence and build mastery of the subject at hand.
D
elivering the most impactful experience for learners hinges on insight into what learners deem useful in a training program. Understanding learner preferences—and employing a learning management system (LMS) that caters to these preferences—is essential to being a leading test prep training provider.
In this blog,
you will learn how using an LMS with advanced features, such as personalization and integrations, can drive sales and cut costs for your online test prep training program.
1.
Find an LMS with Advanced Test Prep
Features
Professionals
seeking to earn a certification generally start on a fairly straightforward path:
First, they

consume the course content

and theory

.

Then, they partake in practicing the new skills.
Finally, they attempt certification

via a standardized examination.
At BenchPrep, this framework is called
Learn, Practice, and Certify,
and it represents the journey every candidate must take to attain a professional certification.
E
ach of these steps takes a considerable amount of effort for learners. Most test prep training courses do a good job providing learning
content and course materials, yet
they fail to offer sufficient
practice opportunities,
such as quizzes, practice questions, or mock exams to prepare candidates for the official certification
exam.
Practice Opportunities
For learners, the practice stage is imperative for mastering the course content. Practice questions and learning exercises aid in reinforcing the course content by offering learners real examples of what to expect on the exam.
An LMS that allows
learners the ability to practice wherever AND whenever fits their lifestyle and schedule offers the convenience professionals require in order to accomplish their career goals.
I
nstant Feedback and Evaluation
Providing
learners with
instant
feedback and evaluation
that is accurate and automated via an online platform also eliminates any partiality.
This lets learners spot and correct gaps in their preparation while everything is still fresh in their minds.
Instructors can also track progress and identify areas where learners might need more attention or practic
e.
An LMS saves time and money for both your business and your learners while improving the quality of your test prep training program. No paperback purchases, no waiting for test results and grading papers, no commuting to lectures—it's a win-win for everyone.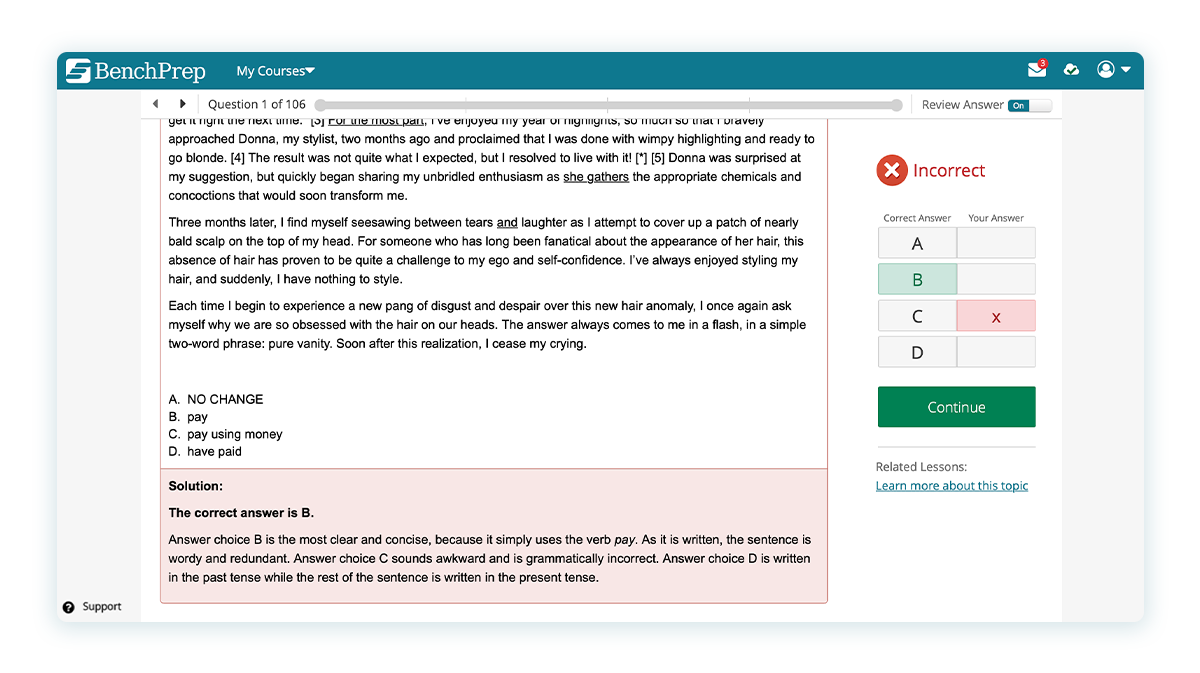 2. Use Learner Data and Analytics to Create a Personalized Training Experience
No two learners are the same in their preferred learning methods, goals, and academic skills. But how do you build a course that recognizes this and balances personalization with a need to deliver certain information?
This is where an
LMS
comes in handy as the system is full of individualized learner data, which
can be used to build personalized
adaptive learning
paths that work best for your learners.
With adaptive learning paths, learners can focus on the course materials they need to master and spend less time on what they already know, as opposed to the learner consuming the same content in the exact same order from start to finish.
Personalization increases educational productivity, accelerates learning rates, and optimizes the use of time. Once learners realize how superior your personalized adaptive learning paths are, they'll become dedicated fans.
3. Take Advantage of eCommerce Integrations
Learners want to find program information quickly and easily. User experience is important because if they have to sort through a lengthy sales or enrollment process
—
they will close the browser and seek out another
test prep provider.
Busy professionals need you to bring the solution to them in a way that is convenient, easy to navigate, and immediately accessible.
Integrating your LMS with an eCommerce storefront creates a seamless experience which is key to gaining loyal users.
Integration with eCommerce
also lets you optimize your catalog for multiple audiences. Whether you aim to increase upsell or cross-sell opportunities, personalization features can automatically adapt how your catalog appears to different users, highlighting new courses relevant to their interests.
A personalized storefront that looks good and works well is invaluable to users and to your company. Optimize user experiences by providing a dashboard that keeps them up to date with account and personal information, course progress, test prep results, and recommended learning.
4. Increase Opportunities for Learning-On-The-Go to Save Learners Time and Money
Professional candidates preparing for competitive exams are generally working individuals with very busy schedules and a ton of other responsibilities. It
's rarely ideal for working adults to p
hysically attend in-person classes or test prep sessions, forcing learners to seek digital alternatives.
Different learners require different focus points to help them in the areas where they need assistance. And on-site training sessions often don't provide scope for this since every learner gets the exact same learning module, in the same format, focusing on the same information regardless of their goals, needs, or previous knowledge. Burning time on information unrelated to specific goals and interests is a poor use of everyone
's
time and money.
On the other hand, eLearning platforms with self-paced programs allow learners to take control of their learning experiences, so they can fit in study time when it's convenient for them.
Learners can also study on the go since
eLearning formats boost retention
by honing in on
small snippets of information
.
For example, learners can flip through digital flashcards or do an online learning challenge while commuting on the train or waiting for kids to finish sports practice
. When your l
earners can put their free time to good use, it increases coursework mastery through repetition and smart learning techniques.
Faster training reduces
costs and
increases learning since learners can complete more courses in a shortened amount of time.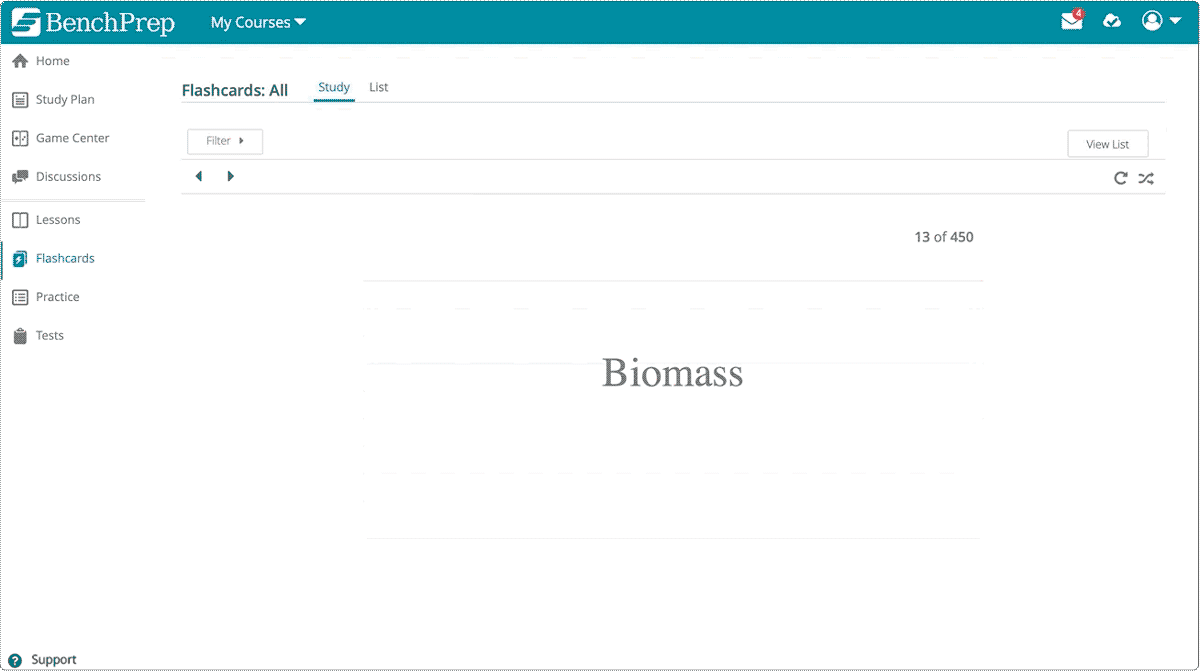 5. Reduce Operational Costs and Increase Scalability
Traditional test prep training programs aren't just inconvenient for the learner on the go, they're also costly to manage.
Managing training facilities and
personnel increase operational costs, limiting your program's earning potential.
A digital test prep training program
reduces the need
for a physical location, equipment, and hard copy materials. Updates to study materials—the latest statistics, case studies, and test prep training requirements—are quick and immediately accessible. You can also minimize instructor costs since they can record one video per segment for viewing multiple times by thousands of different users.
Since you've now automated onboarding, data analysis, and
e
xam creation—your administrative costs will go down. And there's also no ceiling to the number of learners who can sign up, which means there's no limit to business growth.
Traditional programs leave learners in the dark as to how well they grasp the subject matter and how effective the learning methods are.
Automated reporting and analytics capabilities give you insight into what is working, what is popular, and how successful the programs are. Both allow you to make smarter decisions, focusing on methods and the in-demand programs
—
reducing time and money spent on unprofitable operations.
Scalable Learning Experiences with BenchPrep
Using an
LMS for your training course
saves overhead costs and time in managing your program. It enhances learner experiences and retention by meeting learners where they are.
A
n LMS is key to offering learners effective strategies for making connections with the course content.
The
optimal exam preparation
combines first consuming content with offering learners ample practice opportunities to demonstrate what they
've learned
.
Having a robust LMS like the
BenchPrep
platform is the future of learning.
BenchPrep's comprehensive solution comes with an array of advanced features that help online test prep training course providers reduce business expenditure—while improving learner engagement, test readiness, and personalization.
BenchPrep delivers a range of web-based and mobile-based courses, allowing learners to access course content at any time from anywhere.
This learning solution
enables study plans, multimedia, discussions, and quizzes, as well as eCommerce platform integration, data analysis, and reporting on the back end.