5 Ways an LMS Can Supercharge Your Test Prep Program
Remember when studying for a test like the ACT or SAT meant cramming information from textbooks? Or endless practice tests with the answers in small print at the back?
Not anymore.
Now learners cram from anywhere. They're listening to videos on their phone or tapping away on their laptops. And they want a premium digital learning experience to keep them engaged as they prepare for their test. One that's as addictive as Netflix and as easy as ordering from Amazon.
Luckily, the right learning management system (LMS) will make your program best-in-class. In this blog, you will learn 5 ways an LMS can supercharge your test prep program to drive results for your learners and your business!
1. Personalized Learning Experiences
Apps like YouTube and Netflix have made personalization ubiquitous. We expect our technology to recommend content and store our preferences. Learners want to bring this personalized, digital experience into test prep.
For test prep companies that means offering personalized learning.
Online learning platforms offer two options for personalized learning: 1) structured learning pathways, and 2) adaptive learning.
Either option will give you some personalization. But only an adaptive platform can offer an experience unique to each user. They'll receive truly personalized content because it's based on their actions.
🔎 Find out how the BenchPrep platform adapts to your user. Read our blog post, "Adaptive eLearning: Sorting Content for Personalized Learning Pathways."
2. Instant Feedback
Learners expect the same instantaneous feedback we get from software. But human tutors can't give feedback as fast as a computer.
So you'll want your learning management system (LMS) to share the marking load.
Online assessments give learners feedback in real-time. Learners love it because they're never waiting on instructors for a mark. They always know what they need to study.
Even better, the online learning platform dynamically tracks their progress. So they simultaneously see their strengths and their weaknesses.
3. A Human Touch
As much as learners love instant feedback, they also want to be able to ask questions and learn from another human being.
The best LMS lets you do both—live classrooms and eLearning.
You want to give your learners flexibility. The ability to learn on-demand. But also the choice to attend virtual instructor-led training.
At BenchPrep, we created our Zoom integration to make virtual classrooms a cinch. This way your LMS gives you the best of both worlds. Plus, you're not fooling around with webinar links. Your learners always have easy access through the online learning portal.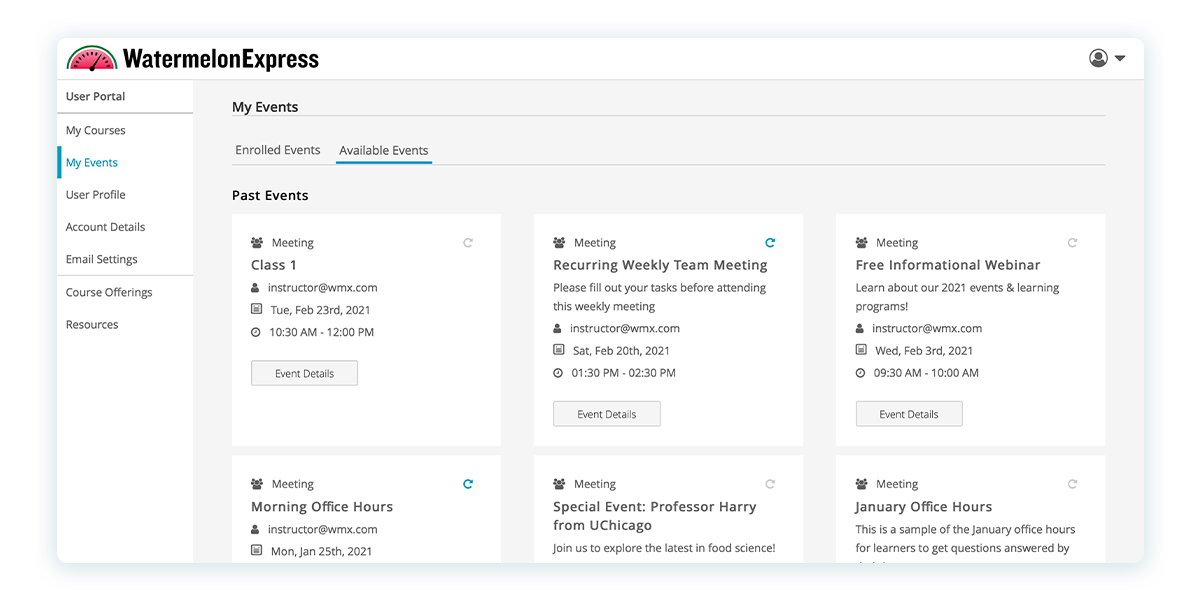 🔎 Don't stop with virtual classrooms. Check out all the use cases for an LMS in our e-book, "The CLO's Handbook for Choosing Learning Technology to Grow Your Business."
4. Practice Tests Just Like the Real Deal
Information on test prep exams may be easy to find, but great practice tests are not.
You want to help by offering practice tests that closely mimic the real thing. . . except most online learning platforms don't offer essay questions.
That's why BenchPrep offers an essay tool designed just for test prep companies.
Now, you can create practice tests that help learners feel like they're in the exam. You'll have access to a variety of question types to help you re-create an authentic exam experience. Plus, they'll receive personalized feedback. Then, they'll be able to track all the feedback your markers give them in one place. That's a recipe for eventually acing the test.
5. In-touch, Data-Driven Learning Content
Too many organizations still perform annual content reviews in the boardroom. And, unsurprisingly, their content goes stale.
Robust data analytics help you stay in touch with your learners' needs.
Your LMS data analytics should tell you more than course completions. You should see where learners spend the bulk of their time. It should also give you information on a question-by-question basis. Finally, you'll want to see where learners drop off.
All this information lets you understand your learners' needs and grow your program.
What Results You Could Get
An LMS may have innovative features, but can it move the needle for learners?
The answer is a resounding, "Yes."
ACT compared learner results for heavy BenchPrep platform users versus occasional users. They found BenchPrep learners scored 32 percent higher on the ACT exam.
But it gets even better.
Learners also ranked the BenchPrep course as the most engaging ACT prep course available.
An LMS won't just give your learners better results, but it'll also be a more enjoyable experience. And the higher your ratings, the more courses you'll sell.
Discover more ways BenchPrep helped ACT's test prep program succeed in our case study, "Taking Digital Learning to the Next Level."