Want to Drive Growth? Go Deep With Your Customer Training
Customers aren't just a transaction to B2B software and consulting services. They're your most important asset.
Customer training offers the perfect vehicle to add value to your customer experience.
Often, a customer first engages with you by consuming educational content. But building trust doesn't stop with content marketing. It continues to grow as you solve their problems more efficiently than anyone else.
Effective onboarding is the fastest way to help your customers get results. And, that's where the majority of companies stop. The problem is that onboarding doesn't show your customer how to get the maximum value out of your solution.
A deep customer training program will help your customers adopt your solution. But it goes even farther. Specific training modules can also teach your customers how to adapt it to their needs.
This blog post will discuss how customer training grows your business. Then, it'll walk you through what a deep customer training program looks like. Finally, you'll find out what learning technology you'll need to make it a reality.
3 Powerful Ways Customer Training Grows your Business
B2B businesses can use training across the customer journey. Lead generating webinars, effective onboarding, and engaging digital adoption strategies all represent key opportunities. They give you the opportunity to provide value at each step by educating your customers.
To help you drive growth, we've separated customer training into three major categories:
Product Specific Use Cases — Courses can facilitate digital adoption and customer retention. Or, it can be a valuable addition to any consulting services. At the end of the day, training should generate results for your customers and upsells for your business.
Sales Enablement Courses — Not everyone benefits from product adoption training. Channel partners, resellers, or brand ambassadors have unique needs. Their training requires a greater breadth of product knowledge and an understanding of potential buyer needs.
Customer Lifecycle — Your training can follow your customer throughout their lifecycle. It should take them seamlessly through marketing, onboarding, and full product adoption. Customer education leads them through this journey.
🔎Want to grow your business with training? Learn how ASCM tripled the number of training seats sold with BenchPrep in this case study.
What a Deep Customer Training Program Look Like
A deep training program goes beyond a webinar or a 1:1 coaching session. It's based on the three pillars: learner engagement, learner experience, and organizational revenue.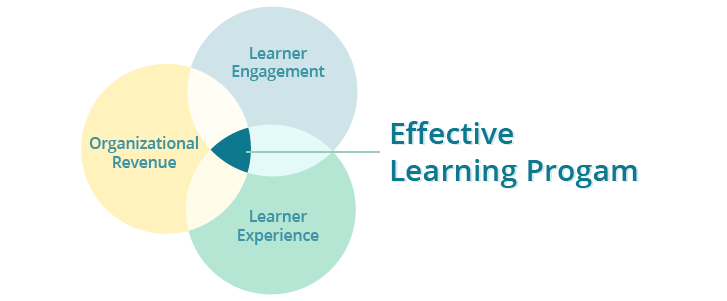 Learner Engagement: Relevant content is the best way to engage learners. Data analytics will help you identify which topics resonate with your audience . . . and which don't.
Learner Experience: Your learning technology shapes the user experience. Just like entertainment, users want a personalized experience available on-demand from any device.
Organizational Revenue: Profitability is just as important as the other two pillars. Without it, you'll never be able to grow your reach and scale your program.
A deep learning program includes all of these elements. It ensures learners become more proficient, while also enjoying the learning experience. By focusing on revenue, you'll also make sure customer training grows your business. You'll be setting and measuring goals to optimize your program until you see the results you want.
🔎 Learn more by reading our ebook, The 3 Pillars of an Effective Learning Program.
Perfect LMS Features for Digital Customer Training Platforms
Learning technology comes in all shapes and sizes. You'll want to make sure you cover the 3 pillars of an effective training program with your LMS.
To keep learners engaged, look for these key features:
User experience goes beyond a nice learner dashboard. Choose these features to make the learning experience itself user-friendly:
The right features can make or break your organization's revenue. Find an LMS that can train an external audience with these defining qualities:
A deep training program is within your reach. With the right LMS features, you'll easily build the three pillars of an effective training program — learner engagement, learner experience, and organizational revenue. With these key components in mind, you'll be sure to grow your business.
If you're looking for more information on the best LMS features for your B2B business, download our ebook, "The CLO's Handbook for Choosing Learning Technology to Grow Your Business."