The Importance of a Scalable Learning Solution
As training and professional development opportunities rise to the top of employees' wish lists, organizations are quickly looking for ways to adapt to their learning needs. Particularly for large organizations, it is easy to outgrow traditional training techniques such as live, in-person trainings.
It is increasingly important for companies to prioritize their learning strategies as 35% of millennials consider comprehensive training and development programs as the top benefit they would want from a company. Falling short of these expectations can have its consequences. Employees who feel a company doesn't support their development goals are 12 times more likely to leave.
Choosing the Right Technology
Rolling out a learning program that is personalized, engaging, and scalable doesn't happen overnight. Online training platforms have increasingly become the go-to-solution, but with so many choices on the market, how do you choose the right one? Many companies are leveraging an LMS and while it once provided organizations a way to manage and organize curriculum material for instructor-led training programs, it is almost impossible to scale live, one-size-fits-all programs to meet the needs of today's learner. In fact, 38% of LMS users want an improved user experience and in turn, 1 in 3 companies are planning to buy a new core learning platform.
Bottom line, it's time to look beyond the LMS. As you consider a new digital platform to enhance your learning strategy, scalability is one of the most important factors for long-term success. A strong learning platform should be able to grow with your business, keep data secure, and deliver an enterprise-level experience to match the expectations of your organization and its learners.
Here's a list of must-have functions for a scalable digital learning platform:
As you compare learning platforms, you may find yourself wondering about the differences between an LMS and a learner success platform. The LMS was built to manage content for large groups and instructor-led training programs. Today, sticky programs need to manage content in addition to the learner journey. A strong learner success platform leverages personalized or adaptive learning techniques to tailor the experience to each and every student's needs. By incorporating key learning modalities such as instructional content, practice material, and assessment-based activities, an effective platform aids in optimal course pacing, remediation, and higher success.
When a product or brand in our everyday lives lacks a mobile experience, we're often quick to move on and find the next best option. It's imperative that your organization offers a learning program that users can access anytime, anywhere, and on any device. This is especially important for busy professionals who are juggling their time between a full-time job, continued education, training requirement, or other lifelong learning goals.
Secure, cloud-based infrastructure:
It's critical that your technology solution can scale with your program and is secure enough to manage your learner data. Web-application framework, data-driven design, and scalable cloud computing architecture enables large scale deployments, user data capture, and resource management for all of your course needs.
Headache-free implementation process:
Scalability can influence how your learning program is viewed within your organization. From engaging, up-to-date onboarding programs to relevant continued learning courses, a learning strategy can greatly impact employee performance, retention, and happiness. Being mindful of a program's integration process and the ease of how admins can update content is crucial to the success of delivering content that aligns with the changing needs of your business.
The success of scaling
As the rate of new skills needed in the workplace accelerates across industries, proactive and innovative organizations are realizing how digital platforms can transform their strategies to empower employees. However based on the important functions discussed above, the extent to which a platform is scalable can make or break the success of a long-term solution.
Rather than settling for generic, quick fix options to drive their organization's initiatives, HR Certification Institute ® (HRCI®) and CompTIA turned to BenchPrep's enterprise-level, SaaS-based, learner success platform to tactfully build and revamp their respective learner-focused programs. Read more to learn how these partnerships have resulted in high-performing and effective strategies to drive learner outcomes.
Leveraging a scalable solution to improve the candidate experience
Like many growing organizations today, HR Certification Institute ® (HRCI®), a premier, nonprofit credentialing organization for human resources, was in search of a partner who would help them deliver a flexible, secure, and scalable framework to support candidates throughout the certification process. HRCI supports professional advancement by developing and administering best-in-class certifications, including the Professional in Human Resources® (PHR®) and Senior Professional in Human Resources® (SPHR). With candidate success at the root of their mission, HRCI saw tremendous value in BenchPrep's learner success platform and the benefits it would provide both candidates and HRCI.

Since the successful launch of PHR and SPHR, HRCI quickly realized the value in working with BenchPrep and has since expanded the partnership to roll out their most recent product, HRCI upSkill, a suite of on-demand learning and assessment modules to help both HR and non-HR professionals perform at their highest potential.
Leveraging BenchPrep's platform for HRCI upSkill, modules allow learners to learn at their own pace, anytime, and on any device. Lessons include interactive features such as visual, audio, and click-to-reveal cues to assist learning. BenchPrep's omni-channel capabilities also allow learners to start where they left off when they sign off and on from the system.
To learn more about how BenchPrep and HRCI's partnership has led to a better candidate journey, download our case study here.
Recertification: A large undertaking that yields results
As lifelong learning becomes the new norm for professionals, many organizations are faced with the challenge of how to find the time and resources to continuously train employees. In an ever-changing professional landscape, recertification programs are becoming a popular method for keeping employee skills up-to-date.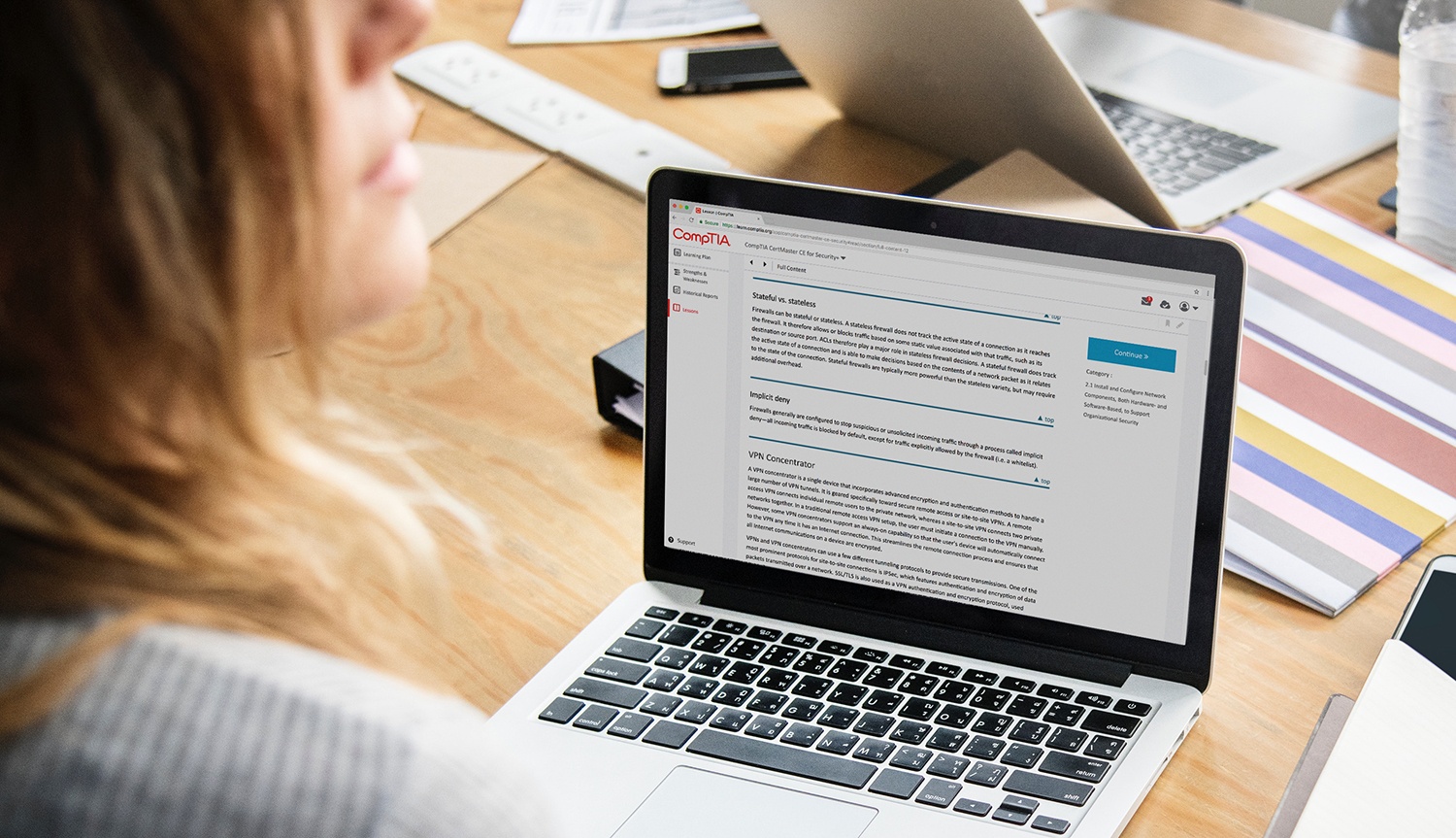 CompTIA, the world's leading tech association, realized the need to reboot their recertification process in order to offer a refined and modernized program to their members. They recognized that many recertification programs are faced with 3 common challenges:
Transactional, one and done approach

– Too often, recertification is viewed as a one-off task by both the professional and the association.

Frictional, onerous renewal

– In order to recertify, it is a time consuming and arduous process for the professional.

Cumbersome for admins

– Associations are burdened with managing recertification through antiquated processes that are difficult to maintain.
Partnering with BenchPrep has allowed them to administer a recertification program that offers lifelong learning through a seamless and effective process. Read more on how they were able to overhaul and adjust their certification program through BenchPrep's platform.

Discover how BenchPrep's enterprise solution provides you with all of these scalable features and more.