What Corporate E-Learning Solution is Best for My Business?
Online learning solutions hold a number of advantages for corporate companies that invest in them, a likely motivator for the 40% of Fortune 500 companies that have already adopted e-learning solutions. These solutions can streamline personnel onboarding, while also helping to make ongoing employee education both affordable and effective. With an innovative, industry-leading corporate e-learning solution, your workforce is equipped to generate higher profits and maximize efficiency.
However, adopting any variety of tools for your business is a major investment, both from a financial and an implementation standpoint. Thus, it's crucial that you have confidence that the e-learning solution you choose is the ideal fit for your organization.
Whether you are already in the middle of your search or just beginning the process, vetting and selecting an e-learning solution takes time and effort. Additionally, choosing a corporate e-learning solution requires you to parse through the numerous options on the market. To ensure the selection you make is the correct one, use the following features as the criteria to look for in a corporate e-learning solution.
Easy to Use
For your corporation to thrive, you need an e-learning solution that can educate your employees in both an efficient and effective manner. Heavy workloads often interfere with employees' endeavors toward continuous education, and it's imperative that the e-learning solution you adopt is easy to use. A recent survey stated that 57% of HR professionals have concerns about their companies' learning processes. If a solution is too convoluted or lessons are too time consuming, your solution is likely to go unused. A competition between education and job responsibilities is a battle education is not likely to win.
Beyond learners, you have other parties to consider when it comes to a solution's ease of use – your trainers and managers. E-learning solution implementation is often met with unease generated from trainers and solution administrators. With new dashboards to navigate and processes to learn, trainers must invest a great amount of time into familiarizing themselves with a solution before they can begin training learners with it.
If you select an easy-to-use solution, however, your trainers are empowered to start using the solution quickly. The faster employees and trainers can understand and engage with a solution, the faster your organization sees a higher productivity yield.
Meets Compliance Standards
When many organizational leaders search for e-learning solutions, evaluating options based on price, structure, and usability are all obvious criteria to consider. One vital feature is easy to overlook – compliance. Numerous organizations, both domestic and international, must meet compliance standards. Whether you're subject to compliance based on HIPAA-protected healthcare information or customer payment information covered by PCI-DSS regulations, it's crucial that your organization meets the required standards with their learning programs.
Noncompliance carries inherent risk, with consequences that many organizations may be unable to weather. Failing to comply with standards can incur steep fines, loss of business, damage to your reputation, and other serious consequences.
However, you may be wondering how compliance relates to e-learning solutions. Solution security is of particular concern for organizations that may use their e-learning solution to store sensitive training materials. If the solution you choose is vulnerable to a data breach, compliance-covered data could be at risk.
User verification is another way a top e-learning solution ensures compliance. If valuable, proprietary data will be stored on your e-learning solution, you set yourself up for a potential data breach. By engaging with an e-learning solution that requires the input of login credentials, you add a layer of security to your data.
On a related note, compliance training is a smart way to educate employees and safeguard your organization against noncompliance risks. For many organizations, this training is required. With a compliant e-learning solution, you can create a training framework that covers sensitive topics, without being concerned that the training materials will be compromised if an employee misplaces a physical copy of this documentation. With all your data stored on a secure digital learning platform, you're better equipped to remain compliant.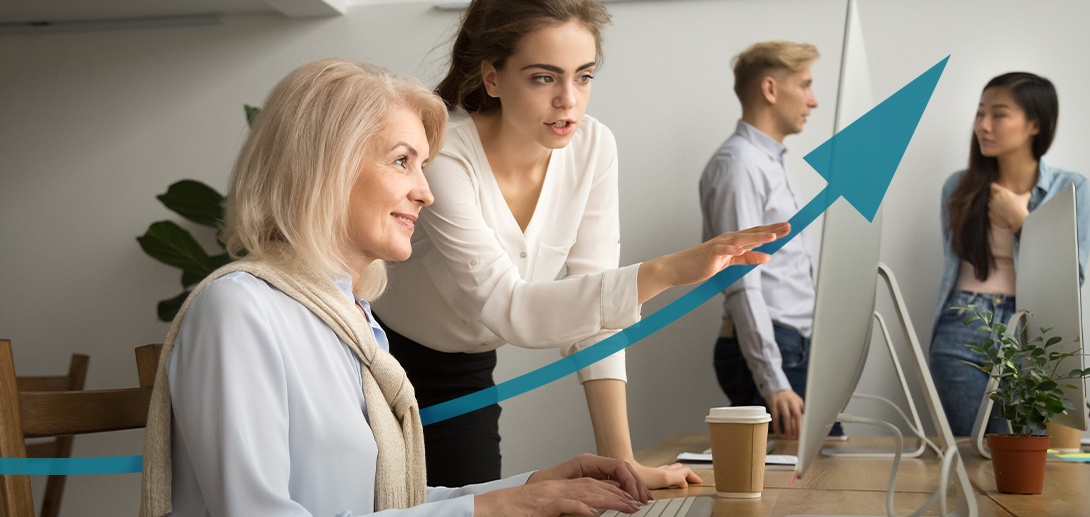 Offers Flexible Training Options
In an ever-changing work environment, instilling a lifelong learning mindset for your employees is more important than ever. Employees need proper training to ensure they're prepared to take on a new software, process, or organizational shift. At the same time, companies also recognize the need to enhance learning programs of the past to facilitate new skill development in a more dynamic work environment. As career paths become less linear and more complex, 56% of companies have redesigned or are planning to redesign their career models to ensure roles are defined to help close potential skill gaps. To adequately prepare your employees, you need a corporate e-learning solution that is flexible enough to adapt to any developments in your organization.
First, look not only at the solution you're choosing, but the provider that you're partnering with, as well. Is this provider able to automate content conversion from its current state into digital lessons, note cards, quizzes, and more? It's also crucial that you look for a solution that offers innovative education methods to engage today's learners like video lessons, interactive group discussion boards, or gamification of training materials.
All of your content should also be stored in a single location, available for all students to access. A strong provider should have the ability to seamlessly and rapidly update your content library as new needs arise.
Finally, you need to ensure that the solution you choose offers flexible on-the-go learning options for your employees. Access to training materials via mobile devices is essential in today's world. Employees likely do not have a week to carve out of their schedule for training, but they can easily devote ten minutes here and there to an easily accessible learning solution.
Optimizes Reporting
Data can provide corporate leaders with valuable insights like how effective their e-learning solution is or the specific strengths and weaknesses of their employees. With a top corporate e-learning solution, you can leverage data insights for a more effective learning environment, and, ultimately, a more profitable business.
With in-person trainings of the past, each employee's progress was watered down into single data points: scores on exams. Even today, 37% of HR professionals feel that they lack the analytics capabilities to have a "big picture" of the talent at their company. These scores offer little in terms of strength identification or learning path remediation. Basic scores also fail to account for mitigating factors like how much study time the learner is able to dedicate to the program and their engagement along the learning journey.
Now, data can reveal to organizations everything they need to know about learners' progress. Fox example, BenchPrep gathers and integrates data in innovative ways. With our solution, all of your employees' learning activities, down to the last click, are tracked. This provides trainers and leaders an unprecedented level of insight into the progress of each employee. You also have the ability to customize data reports on each employee to reflect your organization's specific interests and goals.
These insights can be used to place employees where their strengths can have maximum impact. BenchPrep also uses data to automate remediation plans, customizing learning paths to address the subjects that may require more attention from some employees than others. This allows employees to have access to the necessary content exactly when they require it.
Improves Employee Management
Adopting a new e-learning solution can facilitate ongoing learning, but you'll reap benefits beyond simply having well trained employees. Your managers will be better equipped to make informed decisions about employee placement and how to support individuals on their team based on what the data from their learning solution reveals.
You'll likely see an uptick in employee happiness. It's estimated that 40% of employees who receive inadequate training leave their job within the first year. A lack of training can come at a high price, especially if it leads to high turnover rates. In fact, employee turnover costs about 33% of an employee's annual salary. However, effective training methods at the beginning of an employee's tenure with your organization can have a noticeable impact. According to one study, 53% of HR professionals noticed an increase in employee engagement when onboarding processes and training were improved.
As you search for the most suitable corporate e-learning solution for your organization, keep these five components of an ideal solution in mind.
Do you want to discover more about choosing the perfect e-learning solution for your business? Explore this guide on comprehensive learning solutions.