BenchPrep Recognized as Leader in Learning Management Systems and Training Delivery in Training Industry's Corporate Training Landscape 2020
BenchPrep is proud to be included as a key provider in two categories in The Business of Corporate Learning Landscape 2020 by Training Industry: Learning Management Systems (LMS/LCMS/LXP) and Training Delivery.
Every year, Training Industry releases a category landscape of key vendors in the corporate learning market. They base their recommendations on proprietary research and data analysis from Training Industry's Top 20 and Watch Lists.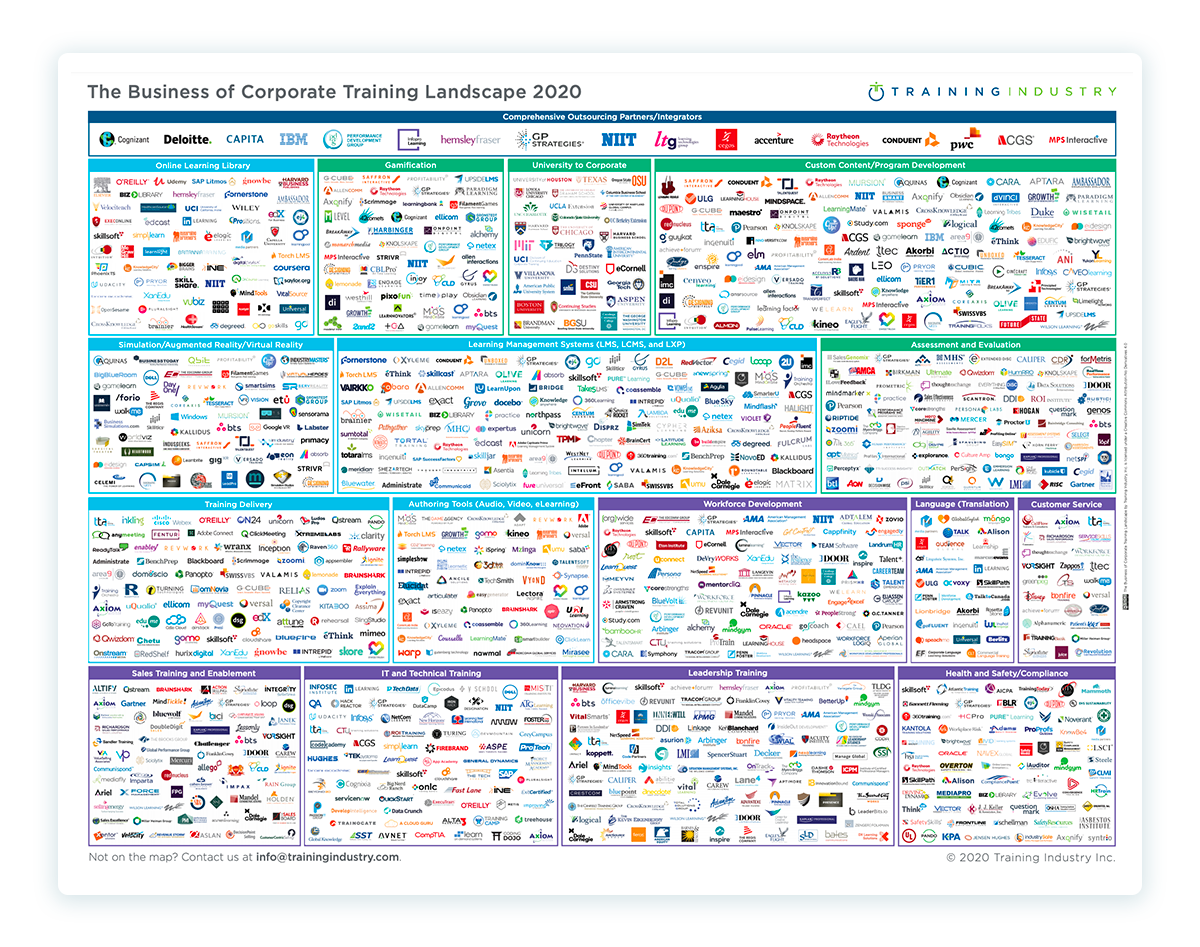 BenchPrep was highlighted as an outstanding LMS software and training delivery provider because we offer our customers an online learning platform to manage digital training programs and online courses with a superior learning experience. At the same time, this list highlights the complexity of choosing the right learning platform for your digital training program. How do you choose among so many great vendors?
The reality is that organizations increasingly work with multiple learning technology vendors to create the training program of their dreams. 82% of organizations used an LMS, according to a 2019 survey by Training Magazine. However, organizations might layer a learning library or gamification platform on top of an LMS. Or, they might purchase a separate authoring tool for internal instructional designers.
Before buying, companies should consider who will be using the learning technology and how it will meet their business goals. However, some vendors can tick more than one box.
For example, what if you need to meet compliance requirements, but you'd like it gamified? What if you'd like to use the same learning vendor to train your B2B sales team and provide customer education?
You might not have to choose between an LMS system and your desired features.
The best part of not having to choose—you get a better return on your investment (ROI).
BenchPrep's platform provides a great ROI because it is a one-stop shop for training providers. It can optimize your learning content, manage your training program, and deliver it directly to your learners.
With BenchPrep, learners receive industry best practices in training delivery. There's baked-in gamification and microlearning. With BenchPrep Engage, organizations can push daily questions out to learners to combat the forgetting curve to create a daily learning habit.
BenchPrep also has experience designing training with multiple industries. We focus on mastery-based learning, a method particularly efficient for high stakes industries like IT, sales, and the medical field. Our partnerships with CompTIA, a leading IT certification body, and Richardson Sales Performance Training Company highlight our specialty in these areas.
If you need custom content, BenchPrep includes a content development tool. But you don't need to DIY. We also have an instructional design team on hand to help you develop a custom curriculum designed with your business goals in mind.
BenchPrep is truly a one-stop shop for your training program. Schedule a demo today to learn more about our cloud-configurable learning management system!