BenchPrep Mentioned in Top 10 Velocity Learning Brands by The Starr Conspiracy
BenchPrep Mentioned in Top 10 Velocity Learning Brands by The Starr Conspiracy
We're excited to announce that BenchPrep placed third in The Starr Conspiracy's Top 10 Velocity Learning Brands category. Brandscape 2021: Talent and Learning All Together Now Report ranks top learning brands and buyers can use these rankings as guidance for their next purchase.
We're proud to be mentioned as a learning software of choice. This achievement reflects our deep commitment to work with our clients as long-term partners. We're honored to serve over 6 million learners and work with industry leading associations, training companies, and corporations.
Key Takeaways
#1: It's all about talent management.
The Starr Conspiracy's Brandscape highlights that the marketplace used to be split into talent and learning. Now, it's all about talent management. Businesses don't care if their new tech fits into a nice box. They want to see how the solution adds value to their organization.
🔎 You might also like: Aragon Research Research 2020 Hot Vendor Report
#2: Investors Bet on Learning Companies
Buyers may not care about the difference between talent and learning technologies but investors do. And, investors have bet on learning companies. In 2020, investment in learning companies grew by $149.3 million. In contrast, investment in talent companies dropped by $101.2 million. As you're looking for new learning technology, make sure you work with a partner who solves business problems.
🔎 For more information on how to select the right LMS for your business, take a look at our e-book, The CLO's Handbook for Choosing Learning Technology to Grow Your Business.
#3: Diverse Market
The The Starr Conspiracy's Brandscape highlights a shift in the market. For the past few years, buyers have had a "good enough" attitude. They wanted one piece of HR software to do it all. Now, buyers are looking for new solutions to meet 2020's problems head on. They want solutions to improve the employee or customer experience. They want to meet the challenges of diversity and inclusivity. And, most of all, they want technology to impact their business. Unlike in the past, they're willing to pay a specialized vendor to get it.
🔎 Check out this blog post for another take on the corporate learning market: BenchPrep Recognized as Leader in Learning Management Systems and Training Delivery in Training Industry's Corporate Training Landscape 2020
How the BenchPrep Approach Fits In
The Starr Conspiracy's Brandscape report concluded by saying:
"One of the very short list of positives from 2020 was the new infusion of humanity into the workplace."
We agree wholeheartedly. We believe in putting people first by fostering happiness and joy at work. Our digital learning platform accomplishes something similar through a learner-centric approach. The dynamically updated dashboard shows learner progress, strengths and weaknesses, and time to overall skill mastery.
Embracing the Talent Paradigm
We've long believed that skills are the currency of the modern workplace. We help businesses develop learner skills through a verified credentialing process. Plus, our learner-centric platform develops learners' skills through mastery learning and confidence-based learning. Research shows confident learners who have mastered the content make the best decisions.
This focus allows our clients to monetize their learning offerings. By providing verified skill development, they can sell courses to a wide variety of consumers. Businesses see the value of well-trained employees. Learners see the value in adding new skills to continue their career growth.
Add Value to Our Partners
Our customers are so important to us that they're at the forefront of our core values. We work with our customers as partners because we want to see their businesses grow and succeed.
As learning experts, we created an internal learning design and strategy team to help our partners successfully monetize their learning offerings. We believe a great learning program rests on three pillars: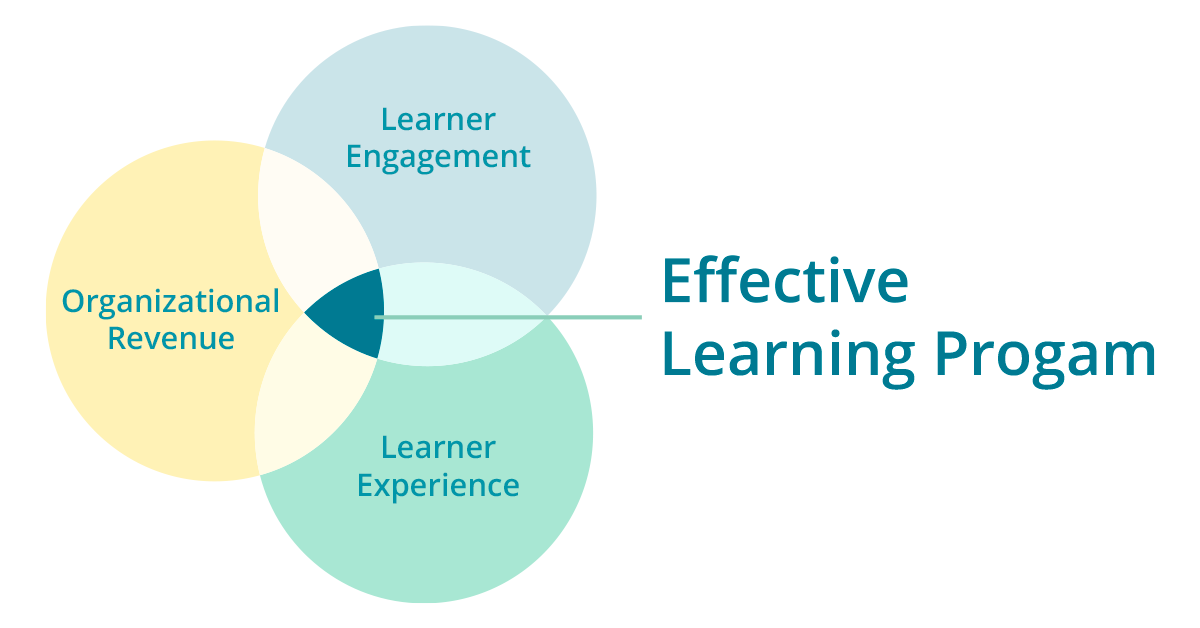 🔎 Related reading: The 3 Pillars of an Effective Learning Program
The Convenience Principle
Ashish Rangnekar founded BenchPrep in 2009 while studying for the GMAT exam in New York City. He found it difficult to study while working a full-time job, and was forced to lug around heavy test prep textbooks everywhere he went to take advantage of any free time. This annoying inconvenience led him to ask, "Why isn't there a better way to study on the go?"
Today, we take the convenience principle to the next level for our clients. We know our clients need integrations to make learning in the flow of work a reality. We integrate with popular video conferencing tools, association management systems, customer relationship management software, eCommerce tools, and more.
Our clients need to educate their extended enterprise of customers, channel partners, third-party suppliers, contractors, and continuing education learners. We've designed the BenchPrep platform to be accessible, mobile, and user-friendly. Your learners will receive the best and most convenient experience possible.
Choosing an LMS remains a difficult choice with so many options on the market and little time for hundreds of demos. What's a learning professional to do?
You need a cheat sheet. Download our buyers' guide, "The CLO's Handbook for Choosing Learning Technology to Grow Your Business," to help you pick the right LMS for your organization.