The Secret to Driving Learner Engagement & Unlocking Revenue
We recently sponsored "Unlocking Revenue by Driving Learner Engagement," a webinar hosted by Tagoras sharing the requirements your learning program needs to increase learner engagement and ultimately help drive revenue back to your organization.
Here are some highlights in case you weren't able to join:
What is Learner Engagement?
This was a hot topic in the webinar chat commentary and ironically the definition is quite subjective, based on each individual experience as a learning professional. It's like defining the word "humility" and determining if you are truly a humble person. While we can easily define humility by referencing the dictionary, it's quite another matter to define if a person is humble.
At the start of this webinar, the hosts asked attendees to provide examples of how they would measure learner engagement. Here are a few examples the attendees provided:
People looking at speakers, not at their phones – the bane of every learning professional's existence
Personally present mentally and physically
Attention to the lesson – interaction with the teacher
Advocacy for the things learned – taking what you learned back to your organization for others to learn
Online chat feedback during the learning experience
What is interesting about these examples are the similarities rather than the differences. When you look for the similarities you find one that is glaring – attention. We live in a world where we are constantly bombarded with stimuli vying for our attention, but the brain only pays attention to the content that is the most engaging. Think of the last time you listened to a monotone presenter or an outdated learning course. Did you feel like you were left with a lasting impression of the content presented? Or did your attention disperse here and there between the speaker and your own thoughts?
For the context of this blog and discussion, we wanted to share with you the definition we will be basing the information off of, and one we feel like hits the nail on the head when it comes to defining learner engagement: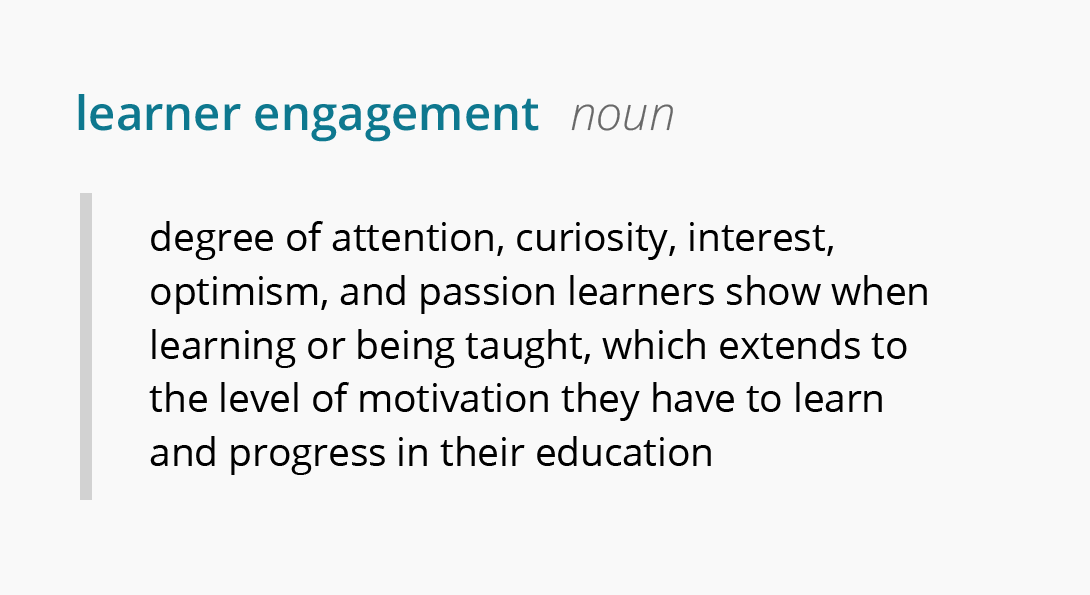 With this definition in mind, how do we engage learners in a compelling way?
Three Dimensions of Learner Engagement
It first starts with understanding the three dimensions for learner engagement, which stipulates that all three elements must be addressed to achieve optimum results: Cognitive Engagement, Emotional Engagement, and Behavioral Engagement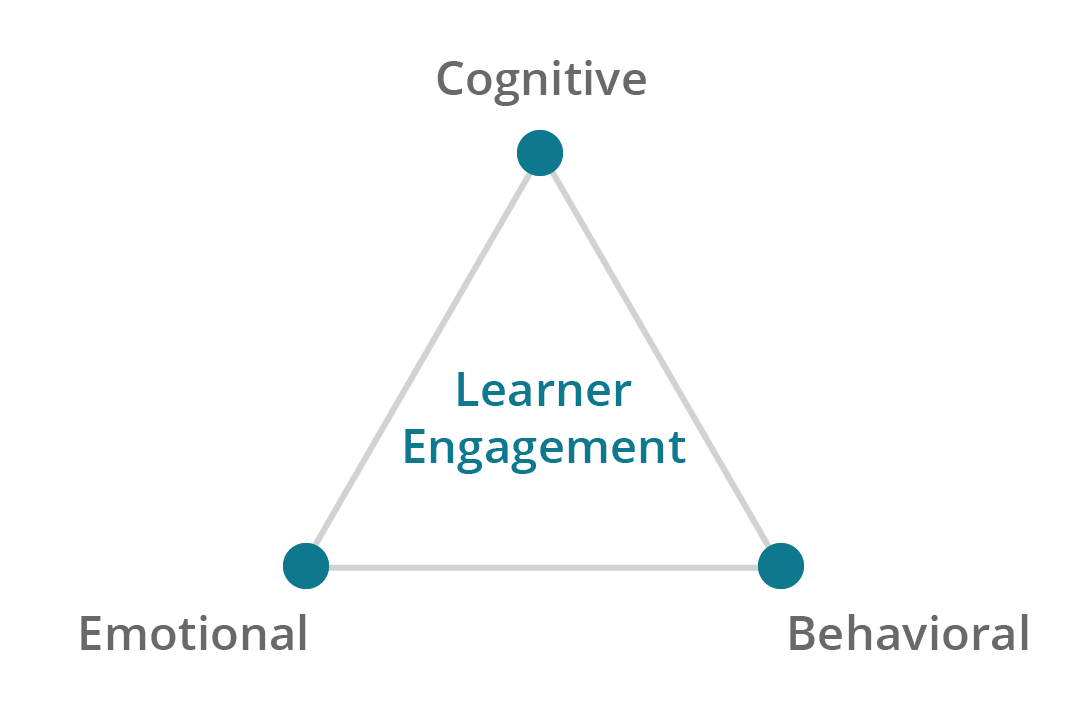 Cognitive Engagement
In order to achieve cognitive engagement, the learning experience must draw the learners attention, curiosity, and interest. Simply put, the learning experience should make the learner think. You can do this by providing content that helps the learner form mental connections via thinking about prior experiences or knowledge they may already have about the topic. Helping the learner become more cognitively connected to the learning experience will increase overall learning engagement.
Emotional Engagement
The next dimension is emotional engagement, or connecting with the learners' motivation and commitment to learn about the topic at hand. This is where the power of storytelling comes into play. Sharing statistics can be helpful, but how often do you remember statistics long-term? However, if you share a story, the information you are trying to convey will be burned into a learners conscious for days, weeks, or even months after the learning experience had concluded.
Behavioral Engagement
The last dimension, behavioral engagement, is all about taking action with what you have learned. As learning professionals, we know the only way learning can have a lasting impact is through practicing what a learner has been taught. Learners will be more engaged once they get to try things out first-hand and they can see that what they've been working on will affect them directly.
Painting a Picture of All Three Dimensions
The blend of all three – Cognitive, Emotional, and Behavioral - are required for an engaging learning experience just like bread requires flour, water, and yeast. An easy way to remember the meaning of these three dimensions is to associate each with one word as illustrated in the below graphic.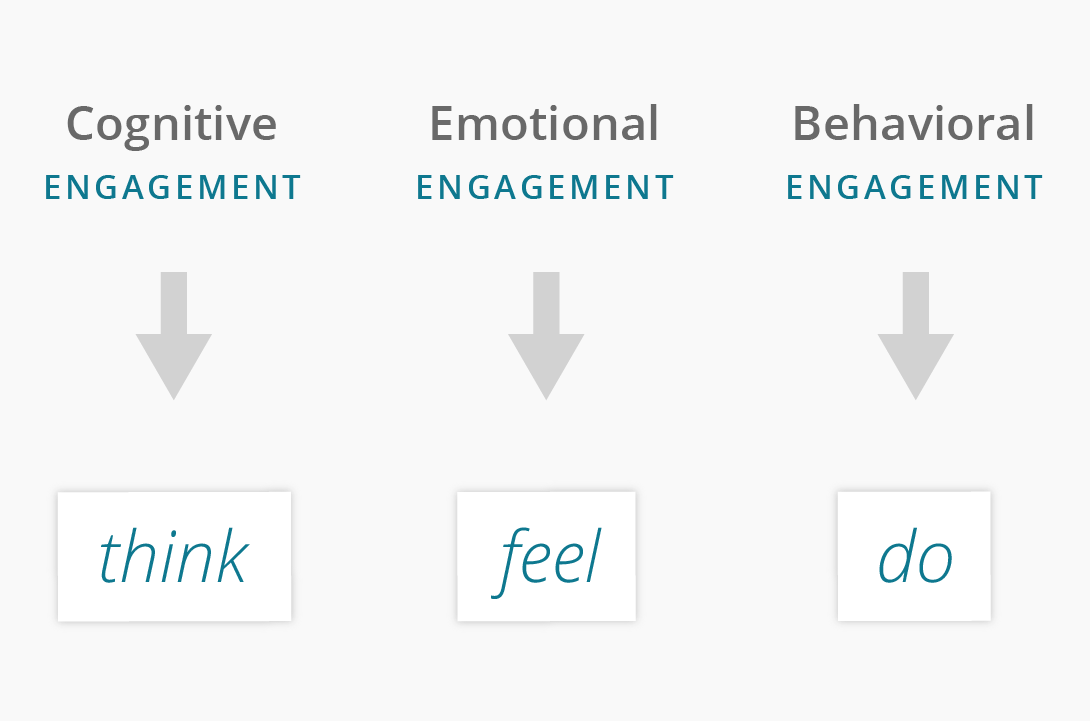 The Recipe for Learner Engagement to Drive Revenue
The concepts of Cognitive, Emotional and Behavior engagement are a combination of art and science. Creating a learning experience that incorporates all 3 dimensions will ultimately leave your learner with the tools needed to be fully engaged with the content. So, you may be asking: how does this all tie to revenue?
Learning engagement helps increase reach (connecting with as many of the right learners at the right time, keeping quality over quantity in mind), revenue (the fuel that keeps your business running and growing), and the impact of your learning business (what makes your business sustainable over time).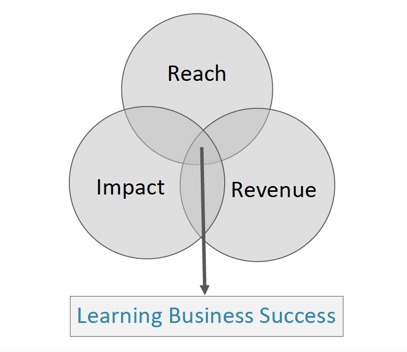 The perfect recipe for learner engagement will keep these 3 dimensions in mind, but there are 3 additional requirements to consider! To learn what these 3 requirements are, check out the full webinar recording below.