Quickly Take Your Learning Program Virtual in 5 Steps [Webinar Recap]
In light of the current landscape, many organizations are faced with digitally transforming their learning programs to meet learners' needs. Organizations are open to using technology to fast-track their digital transformation more than ever, but many are confused about where to begin.
In a recent webinar with Training Industry, we highlighted five simple steps to virtually transform your learning program, or take your current virtual learning program to the next level. Here are some highlights from this webinar:
Invest in the right tools
The learner is the starting point for any learning program. Picture your learners going through a digital course and ask yourself what they may need. What tools and signals will help them succeed? These questions will help put your learner's needs and expectations first.
Since your learners are not getting an in-person classroom experience, it is critical that your organization is providing them the tools that will support them and lead them to success.
When looking at new tools, the first criteria to consider is if your organization needs a short-term or long-term solution. If you are trying to transform your learning quickly, a short term solution like a video conferencing platform might be the fit for your organization's needs.
However, if you want a robust learning solution with tools, structure, experience, expertise, and usability, a long-term solution such as a learning management system (LMS) or a learning experience platform (LXP) would be a better fit for your needs. Here are some examples of short-term and long-term solutions: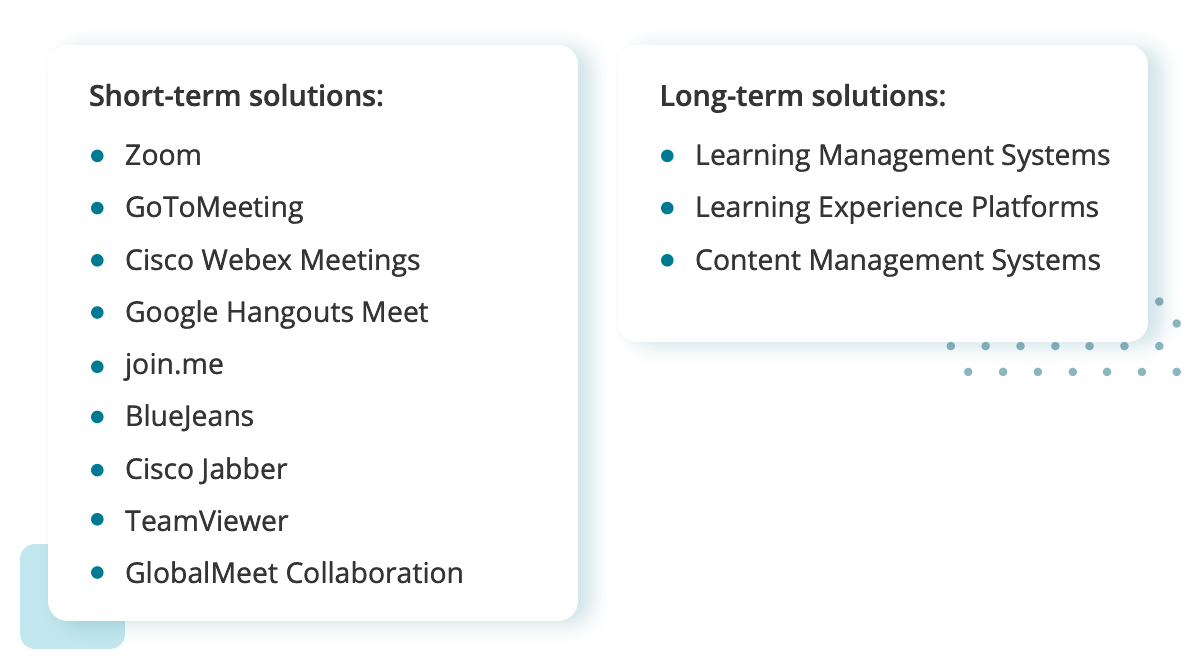 Once evaluating which solution is right for you and your learners, the next step is to think about how you can adapt the classroom experience to the digital world.
Adapt your classroom experience to ensure learner success
The name of the game is business continuity, so preserving as much of the in-person experience as possible is important. To do that, you have to provide extra care to your learning program to ensure that learners are getting the best learning experience. But how does one do that?
To make this journey successful, you can adapt your typical classroom experience for the digital world in several ways:
Maintain momentum and follow up.
Provide an agenda for the class.
Encourage discussions amongst the class.
Mirror the human classroom connection in a digitally based environment.
Now that you've thought through how to adapt your classroom, it's time to think about whether your learning content is ready for a digital platform.
Adapt your content to the digital world
Content is key. The first step in developing your course is taking inventory of your existing content and determining how it can be adapted in a digital environment. This might seem like an easy task. You'll simply take your PowerPoint slides, Word documents, and PDFs and upload them online… right?
Wrong. Not all content works the same way digitally as it does in person. Reflect on your content, and ask yourself: are your materials currently designed to give your learners the best possible experience, and is it optimized for online learning?
Here are some ways you can optimize your current content:
Turn your content into "bite-sized" content or what we call Microlearning
Turn lessons into short topic-specific videos
Turn a boring PDF into a media-rich landing page
Once you have optimized your content, continue to collect as much data as you can about your learners. How do your learners like to consume information? What's most effective in helping them achieve mastery?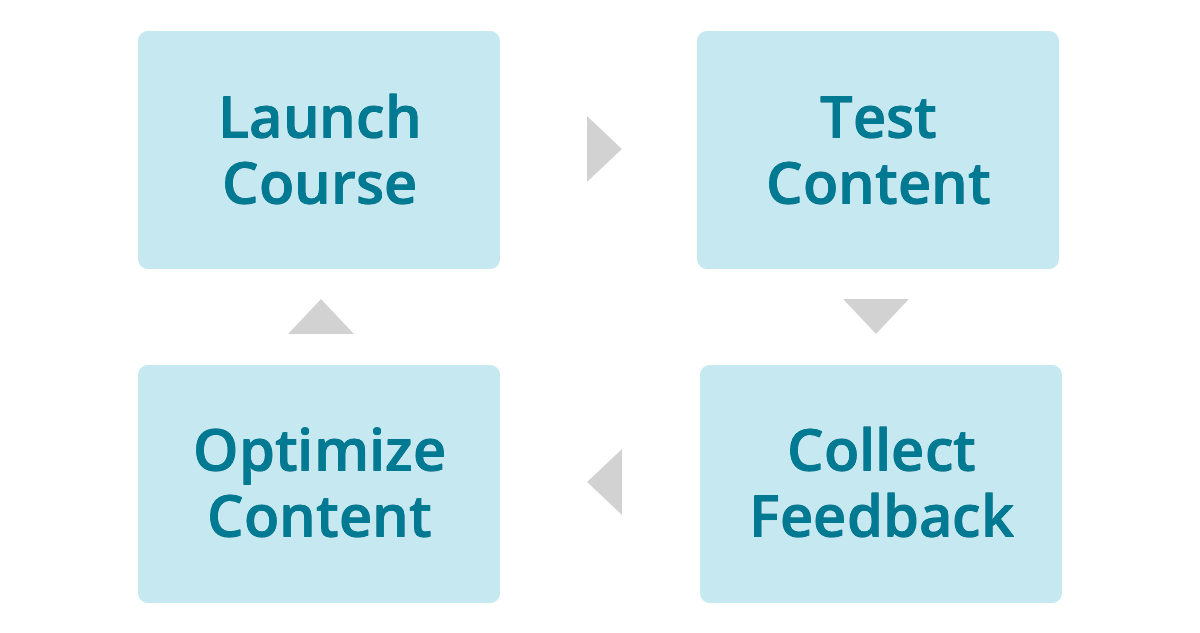 You'll also want to continue to tweak, test, and optimize your digital content. After all, one of the biggest benefits of online learning content is the ability to change it quickly and easily. You can update your content in real-time as you get feedback from students, instructors, and administrators.
What are your next steps?
There are many parts of a learning program and you'll want to think about which specific parts fit your learning solution. Each type of learning solution has pros and cons, so make sure you're asking questions about what's important to you and your team when you decide on your modern learning solution.
We covered 3 critical steps in taking your learning program virtual, but there's more to learn! Download the webinar recording to learn more about these 3 steps and to uncover the additional 2 steps to consider.