Pride at BenchPrep: An Interview with Shannon Kelly
At BenchPrep, our culture starts with the remarkable people we hire and is reinforced by two of our core values: to put people first and to do the right thing.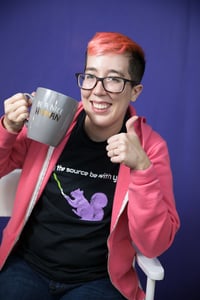 To round out Pride Month, we caught up with Shannon Kelly, our talent acquisition specialist. Shannon is often the first point of contact in our recruiting process, working with hiring managers on job descriptions, finding candidates, reviewing applications, interviewing, advocating for candidates, and checking references.
Shannon's pronouns are they/them, and when they joined BenchPrep, they were the first openly transgender (trans) employee. We asked Shannon about their experiences working at BenchPrep, and below is a summary of that conversation.
Q: Let's talk about pronouns! You use they/them pronouns, and BenchPrep makes a point in our hiring process to ask people for their pronouns. Why is it important for companies to ask for pronouns?
A: I see asking for pronouns as a basic unit of respect. We want to get people's names right, and we also want to call them by the pronouns that they use.
Getting people's pronouns right is not just a trans thing. It's equally important for my sister, as a cisgender woman who has a traditionally boy name, to say she uses "she". You can't assume based on a name or based on what somebody looks like that you know what that person wants to be called. So we're trying to move forward to a culture of asking.
It's also really helpful when people who aren't trans share their pronouns as well, so that way I don't have to raise my hand and say, "My pronouns are they/them." When any other person in the company shares their pronouns too, it takes the weirdness out of it. If the only people who ever have to talk about what pronouns they use are trans people, then it becomes a little alienating.
We make a point to have sharing your pronouns be an optional part of our recruiting process. We ask candidates what pronouns they'd like to use in the application process because we understand that it could change later on, they might not want to out themselves yet, or the pronouns they use now might be different than the pronouns their references may use for them.
It can be really personal. I've never been asked on a job application what my pronouns are. I've had to deal with people assuming and then trying to correct them, but I've never gone through a hiring process where I got to succinctly say who I am and then not worry about being discriminated against. I'm glad we offer candidates that peace of mind at BenchPrep.
Q: What would you say are BenchPrep's strengths as an employer when it comes to supporting LGBTQ+ employees, and especially trans employees?
A: This is going to sound like a fluffy answer, but the openness to having it be part of the conversation is a key thing. I was BenchPrep's first openly trans employee, but everyone was comfortable talking about it and asking me what I need instead of assuming what I need or what I want.
I walked into a company that was already comfortable with queer folks. One of the first company events I went to was last June, and people were openly talking about which Pride Month events they went to. It was different from other companies I worked at where people just didn't talk about LGBTQ+ things.
BenchPrep also has a culture of accepting people's differences. We're all a little weird here, and it's OK -- it's a really good thing! I've worked at other places where nobody talks about what they do outside of work, whether that means they're married, or they like to play video games, or whatever. But here, everybody does bring so much of their full selves to work, and that makes it easier to talk about your issues, or even just about who you are.
At BenchPrep, a lot of the conversations about what it means to be queer at work have a social justice bend to them, too, which makes me feel more free to be myself as a trans person. I can show up with my pink hair and my scruffy mustache. For real, though, who has a pink-haired trans person as a part of their recruiting team? Who does? I've never met other non-binary people who have client-facing roles in a corporate setting.
Before I came out at my last job, I had to ask myself, "Can I be a trans person facing the public?" I know a lot of trans software engineers or artists, but is a company going to let me represent them as a recruiter as an openly trans person? That's still kind of a big deal in 2020. So showing up at work and not being asked to change myself in any way is significant to me.
Q: What are some things your BenchPrep coworkers have done that made you feel particularly well-supported, welcome, and able to be yourself?
A: One is just getting my pronouns right. It's meaningful that people here don't take a ton of nudging and correction to get it right.
I also feel well-supported by my teammates on the People Team. We joke that we talk about our feelings all of the time. I feel safe sharing about my life and my experience and being a little vulnerable because I know I'll be supported.
I recognize that sometimes as the first trans person, accommodation might have limitations and people won't know exactly what to do, but acknowledging that instead of pretending everything is perfect makes a big difference. I like being asked, "Hey, how can we improve our application process for trans people?" or, "Do you like how we're wording this?" or, "How can we make things better for you or future employees like you?" I know some people don't want to be that person who answers questions, but I'm fine with that as long as they're not invasive questions.
Also, people here do their homework and they listen. Once, I was having a lunchtime conversation with another queer person at BenchPrep about my personal feelings about gender. Another coworker sat down with us and realized we were having an intense conversation, but they decided to stay and listen because they hadn't heard about that before. Maybe it's because we're a learning company, but people here are interested in hearing different points of view, and that's nice.
Q: How has working at BenchPrep made a difference in your life or in your career?
A: It's made a huge difference in my career and in my life, for all of the boring career progression reasons, but it's also really exciting to feel like I have a voice in what we're doing here.
I never thought I'd be able to be in an external facing role as a trans queer person. I never saw that in a corporate sense when I was growing up. Knowing that I get to help people find jobs without having to package myself to be less trans and less queer is really exciting and powerful.
I also hope that I'm able to help people. Self-servingly, I want more trans people to work here, and there's support from the rest of the team that we all want to have more trans people here. That's empowering, and it's an exciting step, and it's super meaningful to me to have that support.
[Editor's note: BenchPrep is hiring!
Check out our Built In Chicago careers page
to see our open roles and apply.]
Q: This year, Pride Month is happening in a very different social and political moment with the momentum that is building for the Movement For Black Lives. How has that changed the way you are celebrating?
A: It's definitely a different moment, which I think is a good thing. It's a good reminder. We celebrate Pride because of the Stonewall uprising, which was a riot against police raiding a bar. It's important to remember where Pride comes from when we're in a world where it gets celebrated with parade floats and vodka drinks and companies changing their logos to rainbows.
What we're really talking about is humanity. It's important for us to have pride because there are people telling us we can't, and we don't deserve to, and if we'd all just be quiet and get along, we wouldn't be discriminated against.
I hope the past several weeks have been a reminder for people that all of our liberation and freedom and civil rights are tied up together. Since the recent protests against police brutality began, two black trans women have been murdered. What's a parade when people are being murdered? I'm glad we're re-centering the conversation around Black Lives Matter, because queer lives and trans lives are Black lives, too. We can't just make the world safer for some people.