4 Ways to Grow Your Credentialing Programs
With monumental shifts in the workforce and education over the last three years, learners, educators, and learning businesses alike are demanding tools and platforms that promote deep knowledge attainment to offer more equitable opportunities, upskill or reskill their workforce, help retain talent, and more.
How can you take advantage of the opportunity at hand to help those trying to navigate their career paths? In this blog, you'll learn 4 ways you can grow your credentialing programs.
Before we dive in, let's level-set on some terms: for the purposes of this blog, we will be referring to certificates, certifications, and licenses as "credentials". This is an umbrella term that can also encompass things like diplomas and degrees. However, we will not be focusing on diplomas or degrees in this blog. With that, let's get to the four ways!
1. Market the certificate, certification, or licensing program aggressively.
Despite the challenges organizations have faced in recent years, many have been able to grow their programs in light of the challenges brought on by the Great Resignation. As professionals look for ways to pivot or grow their careers, many are researching available certificates, certifications, or licenses that can help get them to where they want to go. This is a great opportunity to run marketing campaigns against those professionals.
Example: If you search on Google for "project management certificate", you may start to receive retargeting ads from Coursera for their Google Project Management Certificate. An example of a Facebook retargeting ad is below: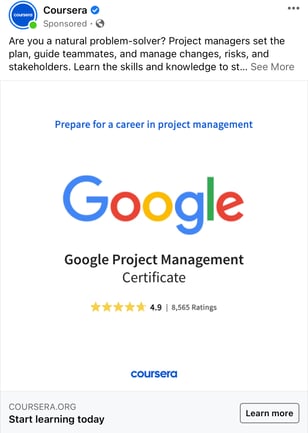 Retargeting ads and video content are a powerful way to have your certification and licensing program stay top of mind with your target audience.
2. Build partnerships with employers who are investing in training.
Ashish shared two models for building partnerships:
Model 1: Encourage organizations to spend on your certification.
We are seeing large companies like AT&T, Amazon, and Deloitte spend hundreds of millions of dollars to retrain, reskill, and upskill their workforce.

One important thing to keep in mind is that these are not training companies. So, how do they plan on training their massive employee base? They're going to encourage employees to pursue industry-recognized certifications and training.
For example, if an Amazon employee wants to pursue a career in supply chain management, Amazon may recommend a supply chain certification from ASCM. If an AT&T technician wants to pursue a career in networking, they may recommend a CompTIA Network+ certification.
As employers are encouraging employees to pursue certifications, your program must be top of mind for these organizations.
Model 2: Work with employers to come up with a certification program for them.
PWC is in the process of upskilling all 50,000 of its U.S. employees through its Digital Academy program. But, how would they know if someone has truly mastered those digital skills? Are they truly competent? Have they obtained mastery? To determine this, they might need a certification that can help prove mastery and competency.
This is an amazing opportunity to partner with these organizations to create a certification so they can prove mastery on the training dollars they are investing, which is critical to driving ROI.
3. Unbundle larger certifications into smaller ones.
Today's learners are busy and don't have the capacity to sign onto a 6-month or a year-long program. The answer to this problem is unbundling. Unbundling is the breaking down of something big into smaller and smaller units. Books and courses are being unbundled into blogs and podcasts; conferences into webinars, lunch-and-learns, and other shorter digital programs.
In education, we can think of degree programs as the most obvious possible bundle to unpack. You could start with the traditional, four-year, full-time degree program and proceed to part-time degree programs; from part-time degree programs would unbundle down into boot camps; boot camps become certificates, and so on and so on.
American Medical Technologists have neatly unbundled their credentials into horizontal and vertical stacks. Horizontal stacks are a way to enhance your skill-set by moving along a career path by earning additional certifications or taking assessment-based certificate courses. Vertical stacking can be thought of as climbing a career ladder, where the certifications may require additional training and/or certifications. The goal is to give learners the small steps they need to reach their career goals.
In this model, where attention spans are low, organizations need to see ROI quickly, and the market is hot, being able to unbundle certifications and provide this career journey has proven very beneficial both for the professional and the certifying body.
4. Provide powerful and engaging practice experiences to remove barriers and facilitate successful completion.
Last but certainly not least is enabling your candidates to complete their certification by providing prep and practice to remove barriers and facilitate successful completion. By removing friction and lowering dropout rates, a robust learning experience will open up the top end of the funnel to your certification and licensing programs.
The Graduate Management Admission Council (GMAC) is a great example. They launched a new exam alongside offering a practice solution so candidates could get used to the exam experience and be better prepared to pass the test. The result? 96% of the candidates who used the practice solution said they felt better prepared for the exam.
As you explore which of these 4 ways may be best for growing your certification and licensing programs, keep in mind that no single solution will be the magic bullet. We recommend trying a combination of these 4 ways to see optimal results.
In a recent webinar, Ashish drilled in on how you can provide a compelling practice and prep solution. Interested in learning more? Fill out the form on this page to get the on-demand recording of the webinar.