Driving Equity in Online Education: ACCA's Inspiring Journey
In a recent webinar, we invited industry experts from the Association of Chartered Certified Accountants (ACCA) to discuss their efforts in reducing pass rate disparities and contributing to the establishment of a global standard in education.
During this time, Emma Kerr, Head of Content and Publications; Winifred Poon, Marketing Programme Lead, Marketing Programme Lead – Future Members & LPs; and Barry Walsh, Professional Content Lead, shared the story of how ACCA recognized the need to bridge gaps in pass rates and accessibility in international markets and created Study Hub - an innovative tool that provides free access to study materials for learners worldwide.
In this blog, we will delve into ACCA's remarkable efforts to empower aspiring accountants and instill confidence in their certification pursuits.
Pre-Study Hub Challenges
To improve pass rates and maintain qualification standards, ACCA identified four challenges learners face: content model and ownership, affordability, access delays, and performance disparities. Let's explore how Study Hub tackles each barrier.
Content Model and Ownership: Study Hub's robust content model and ownership contribute to its success in providing an efficient, accessible, and engaging study experience by providing learners with access to a wide range of study materials one place, ensuring quality and relevance to their needs.
Affordability Barrier: Study Hub overcomes the affordability barrier by offering high-quality study materials, ensuring that all learners have access to the resources they need to excel, regardless of their financial situation.
Access Delays: Study Hub uses technology to eliminate access delays and ensure learners can instantly access the most up-to-date resources they need, saving them time and allowing them to focus on their studies.
Performance Disparities: Study Hub bridges performance gaps by providing comprehensive study materials and leveraging technology to enhance learning, thus empowering learners to perform at their best and achieve certification success.
Pilot Launch and

Learner

Feedback
By addressing these challenges, Study Hub revolutionizes the learning experience worldwide, making it more accessible, affordable, and effective. During the pilot launch, Study Hub received a positive response from users who found immense value in its convenience and comprehensive study materials. Learners reported feeling more prepared for exams and noticed improved performance, solidifying Study Hub as a foundation for success.
Go-to-Market Strategy
The Study Hub's successful pilot launch paved the way for its global expansion. With a globally connected community, ACCA recognized the importance of catering to a diverse audience.
The internal technical team, consisting of qualified accountants, worked diligently to ensure that the study content met the needs of learners worldwide. They conducted internal sessions to explain the purpose and goals of the Study Hub to external partners.
ACCA also made the Study Hub available to their learning partner network and communicated with them through emails, social media, and their own channels. Feedback from students and tutors around the world was gathered, and appropriate changes were made to maintain quality. Care was taken to ensure examples and scenarios resonated globally.
Global Launch and Study Hub Outcomes

Since its global launch, the Study Hub has garnered over 72,000 active users, with India, Pakistan, and the United Kingdom leading the way in terms of engagement. The initial surge in users following the launch was a testament to the effectiveness of the marketing and go-to-market campaigns.
In a promotional video, the key features of Study Hub were brought to life, further emphasizing its effectiveness and appeal:
Study Hub yielded remarkable results, with clear evidence that learners who used it achieved higher pass rates. This was particularly encouraging considering that a high proportion of Study Hub users were self-study learners, highlighting the significance of quality study resources in achieving success.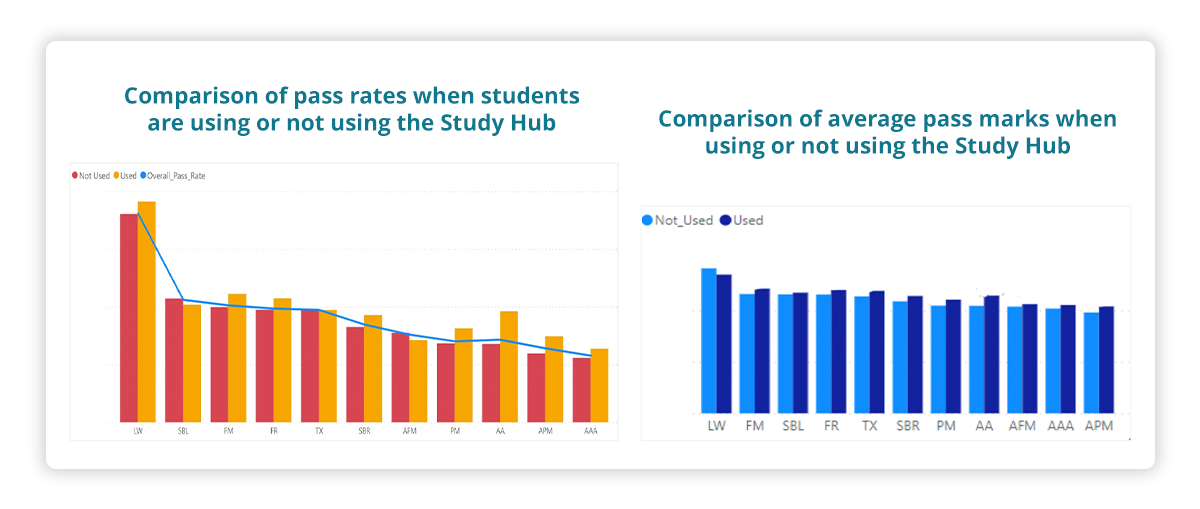 Key Considerations for Your Organization: Lessons Learned
These key considerations are crucial for organizations aiming to develop and provide high-quality educational resources:
Leverage Existing Content: Utilize existing content to create comprehensive, varied study resources, saving time and resources while ensuring reliability and trustworthiness.
Review Intellectual Property (IP): Ensure ethical practices by reviewing intellectual property rights when incorporating existing content into education resources.
Market Research: Develop relevant, engaging educational materials by gathering feedback from learners, partners, and stakeholders to identify gaps in existing study resources.
Senior Leadership Support: Strong leadership support is crucial for successful educational initiatives, providing necessary resources, budget allocation, and clear goals, to help organizations overcome challenges and ensure the success of their educational programs.
Consider Offering Free Access: Promote equitable education by offering free access to study materials, leveling the playing field, and ensuring equal opportunities for all learners to succeed.
Implications and Future Trends in Education
Adapting ACCA's Approach to Provide Equitable Access for All
In today's rapidly evolving world, equitable access to education has become more crucial than ever. Every individual, regardless of their background or circumstances, should have the opportunity to access quality educational resources and enhance their learning experience.
Understanding the importance of equitable access, ACCA uses a technology-driven approach that harnesses the power of digital platforms to ensure that learners can conveniently access the resources they require to effectively prepare for their exams.
Technology's Role in Future Education
Technology plays an increasingly prominent role in education, enhancing the learning experience for learners. ACCA embraces technology to personalize learning through data analysis, providing tailored study materials and resources. This approach improves studying effectiveness and ensures learners receive the necessary support.
Additionally, technology enables interactive and engaging learning experiences, with the Study Hub incorporating interactive elements including quizzes, confidence levels, note-taking, and written response questions. This dynamic and interactive environment fosters learner engagement and motivation, resulting in improved learning outcomes.
What's Next in ACCA's Journey
Looking to the future, ACCA plans to enhance data analysis and collaborate closely with learning partners to raise visibility in specific regions. This will provide a new sense of direction and help expand the reach and impact of the Study Hub.
ACCA will continue to utilize technology and embrace emerging technologies to enhance the Study Hub, providing learners with innovative and immersive learning experiences to prepare them for the evolving demands of the professional world.
As ACCA continues its journey, it remains committed to adapting its approach, embracing technology, and ensuring equitable access for all. Want to learn how you can benefit from a similar innovative approach?