Defining the Learning Problem from the Learner's Perspective
Beatrice Conley, Enterprise Solutions Manager at BenchPrep, presented at Learning Solutions Conference & Expo 2018.
Today, it's not about if technology-based learning should be part of your learning and development strategy, but more about which technology will effectively enable your organization to meet your learning goals and solve any problems at hand. But taking a step back, are you thinking about these goals and challenges from both the learner and your organization's perspectives?
At The eLearning Guild's Learning Solutions Conference & Expo 2018, Beatrice Conley, Enterprise Solutions Manager at BenchPrep, presented a framework for folks to use when determining the right learning solution for their organization. This information was a core objective for the majority of attendees at the conference and Beatrice's presentation guided them through an exercise to consider two perspectives as they explored potential solutions.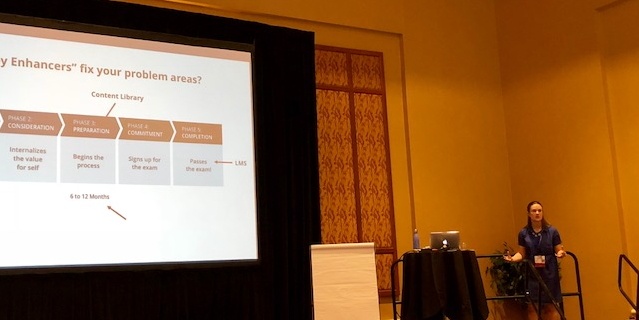 The framework begins by taking a closer look at the learner experience through the lens of a learner. This method helped the audience visualize and identify challenges and gaps facing both the learner and the organization throughout the learning journey.

Common learning challenges for today's learner:
Require immediate access

Lack of bite-sized, time managed programs

Need an easy to use, intuitive user experience

Demand great and relevant content
Common challenges organizations face with traditional learning programs:
Decreased participation and low engagement

Lack of technology

Irrelevant user data

Misaligned business objectives

With so many solutions to choose from, Beatrice outlined BenchPrep's four key pillars to keep top of mind when evaluating learning programs.
Structure:

Choose a solution that offers customized pathways that meet learner needs and one that fits any type of content or course structure.

Achievement:

Incorporate learning goals, practice tests, exams, and gamification to help learners validate their progress and see results.

Accessibility:

Offer on-demand access anywhere, anytime, across devices to increase engagement for today's digital savvy, busy learner.

Analytics:

Ensure the solution provides analytics that will benefit all key stakeholders, starting with the learner.
Determine the right learning solution for your organization and improve your learner's experience.
Download presentation slides to:
See an illustration of the complete candidate journey, including the 5 stages a typical learner goes through

Identify gaps in the learning journey from an organization's perspective, as well as from a learner's perspective, and how to use those insights to determine an effective learning solution

Take a deeper dive into the 4 pillars of the learner experience