5 Must-have LMS Features for Remote Learning
Before COVID-19, only 8% of the workforce worked remotely. A new Gallup found that 56% of U.S. workers were "always" or "sometimes" working remotely in January 2021. It looks like remote work (or at least having the option to work remotely) will no longer be a "trend" but an expectation once the pandemic has passed.
It's not just employees that are working remotely--it's your learners, too. To keep your learning program running strong, you need a learning management system (LMS) that enables you to deliver learning both in-person and remotely. With these five must-have LMS features, you'll be set to create engaging remote learning experiences, not just boring click-through eLearning courses.
1) Collaboration Integrations — Keep Your Instructors Teaching
Before COVID-19, many programs harnessed the power of blended learning. Online modules prepared learners for in-class discussions and group work. You don't need to give up blended learning just because learners can't come in person. Video conferencing software allows you to continue your program with virtual instructor-led training (VILT).
As an added bonus, collaboration tools can help remote workers feel less lonely. You can integrate social learning into your programs with discussion boards, communities of practice, and group projects. For training companies, you can even integrate these social learning options into a subscription service.
🔎If you want to incorporate social learning virtually, find more tips in our blog post, Remote Training: Transform Social Distancing into Social Learning.
2) In-the-flow of Work Integrations — Solve Problems Quickly
In the 70-20-10 model, 20% of learning happens through social interaction. You ask a colleague how to do something, or, your coach gives you advice. When working remotely, learners and coaches don't have the same access to each other. But they're still expected to maintain the same outputs. This situation puts companies at risk for more errors.
Here's a solution — in-the-flow of work integrations. Learners simply click on the learning icon in their work software to receive training, which reduces training time for your clients. Instead of interrupting learners' workdays, they're being trained on new procedures directly in their work software. You'll be able to promise faster, measurable results proven by your LMS's data analytics.
3) Multiple Modalities — Repurpose Content for Choice
Traditional e-learning design often locks learners into one prescribed pathway. Unlike an in-person lecture, remote workers can easily perform other tasks while listening to eLearning in the background. If eLearning designers want to engage learners, then they need to give them content in their preferred format (audio, text, or video).
The right LMS will be able to easily repurpose content. You'll be able to turn boring PDFs into short articles or videos. You'll be able to pull out microlearning lessons from scripted content like videos. And, most importantly, you'll keep your learners engaged.
🔎If want truly personalized pathways, read about how adaptive learning works in this blog post, Adaptive eLearning: Sorting Content for Personalized Learning Pathways.
4) Built-in Content Authoring Tools — Quick Edits for Agility
COVID-19 proved the world can change overnight. Remote workers don't have the luxury of last-minute staff meetings. They need an LMS that can push important training out quickly.
To make quick pivots a reality, you need an LMS with a built-in authoring tool. This tool makes updating content a breeze. It'll also improve your return-on-investment (ROI) because you can skip buying expensive third-party authoring tools. Plus, you'll be able to use templates to make content development fast and easy.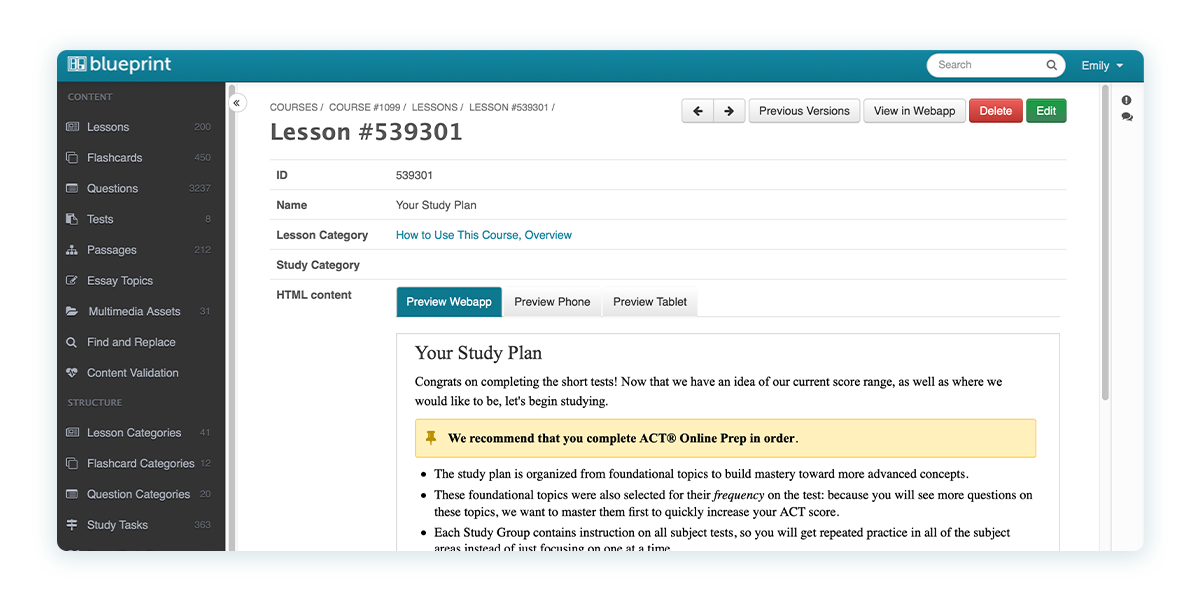 5) Accessibility and Useability Features — Support All Learners
During in-person training, learners with disabilities could often ask the instructor for a few modifications. Then, they'd be fine. However, scalable eLearning experiences don't allow for modifications. They need accessibility designed into the course from the beginning.
You need an LMS that takes accessibility seriously. At BenchPrep, our Learning, Design, and Strategy team makes courses accessible in a number of ways. As a rule, they always pair a visual with an alternative text. They also design the courses for use without a mouse. And, of course, providing your content in both text and audio formats helps to meet the needs of people with visual or auditory impairments.
We know training companies must pivot their training for remote workers. At BenchPrep, we're here to help you with your in-person training programs. That's why we offer all of these essential features in our platform.
If you're hunting for an LMS for remote learning, check out our webinar, "COVID-19 Requiring Remote Learning? 7 Steps to Finding the Right LMS."